HOME > AGENDA < U bent hier
Calendar of special events in Suriname, that are open to the public, such as concerts, conferences, seminars, and more. Regular worship services are found under Kerkdiensten, and under worship services in de International section.

Zie ook de Pagina met Aktiviteiten voor uw vakantie buiten Suriname
Er is heel veel te doen op Christelijk gebied in Suriname. Doe a.u.b. opgaaf van uw aktiviteiten, ook als uw organisatie een eigen website beheert. Kerkipasi.net is dan een extra medium om (gratis en tot in het buitenland) bekendheid daaraan te geven.
Waar naartoe? Kom regelmatig terug en bekijk de agenda hieronder:
---

ZONDAG 6 MAART 2016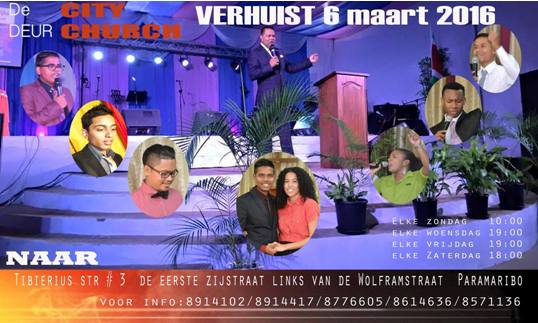 VERHUIZING van DE DEUR CITY CHURCH
naar Tiberiusstraat 3, eerste zijstraat links van de Wolframstraat
Paramaribo - Noord
Voor info: 8914102 / 8914417
---