HOME
>
KAPEL
>
Rev. John de Cock <

You are here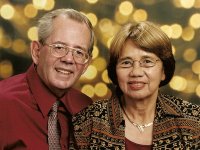 This page is dedicated to the Rev. John E.
de Cock, an Assemblies of God missionary who
was assigned to pastor
the First Assembly of
God in Paramaribo (1962)
. He pastored that
church and led the denomination's work at
several periods of time. He is one of the last
living leaders of the first Pentecostal churches
in Suriname, and w
e honor him as such.

Rev. De Cock and his wife Thelma now reside in the USA.

Below are links in alphabetical order to poems written by Rev. John de Cock. Because his poems all tell stories from the Bible, we have decided to place this section in the Kerkipasi.net chapel. More poems or articles will be added.