HOME > TALENT IN DIENST VAN GOD > MUZIEK EN DANS > Asgar Koster < U bent hier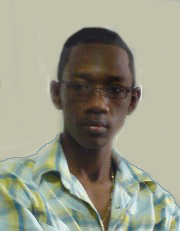 Ik ben Asgar Koster, geboren op 15 oktober
1985 te Paramaribo.
Verder ben ik gemeente muzikant in de Nieuwe
Generatie Gemeente Gods Bazuin onder leiding
van Bisschop Dr. Steve Meye.
Ik bespeel de keyboard, de bass en als het nodig
is; de drums.
Mijn hobbyís zijn: voetballen, liederen schrijven,
samen jammen met andere Muzikanten, en uit-
gaan in mijn vrije tijd.
Ik ben ook nog lid, tevens leider van de rapgroep
genaamd ď10-23 generatieĒ.
Joy Meye en ik zijn niet lang terug uitgekomen met de single ďI love You soĒ.
Deze single is een love song voor onze Heer en God.
We hebben voor een love song gekozen, omdat wij ervan overtuigd zijn, dat
de liefde van God voor ons byzonder groot is en dat wij niets zonder Hem
kunnen.
De nieuwe CD van de 10-23 generatie komt in september 2008 uit,
dus kijk ernaar uit.
I LOVE YOU SO. (2007)
Couplet 1:
This song is from the bottom of my heart
The way You make me feel,
The way You talk to me Lord,
My Father there is no way that I can explain it,
But I know for sure You will accept it.
The praise and worship, I will give You,
Now and forever Youíre worthy, worthy
Worthy of my praise, praise of my praise.
Refrein:
I love You so, I canít let You go,
But now I know that I need You ohh.
I love You so, I canít let You go,
But now I know that I need You, ohh
Rap:
I love You so I canít let You go,
But now I know that I need You oh,
You are The One joy, The One with peace,
The One with evírything (evírything)
Youíre love for me is getting bigger thatís
What I see, thatís why I love You and with
You I wanna be, great is Your mercy
day after day for me uh, day after day for me.
Couplet 2:
I canít imagine life without You,
Without You my life has no value,
I canít go thru life without knowing that Youíll
always be by my side, glowing with pride and no shame,
Lord I lift up Your name, I want you to stay with me wherever I go.
Refrein:
Bridge:
Youíre the one that Iím gonna spend my life with,
You loved me first and thatís just what You did,
You are so good that I canít live without You,
And itís an honor to be with You, that is true, that is true (verhoging)
Refrein: (2maal)
Geschreven door : Joy Meye en Asgar Koster
Arrangement : Asgar Koster
DŁr : D naar D#
© 2007 - Asgar Koster
---